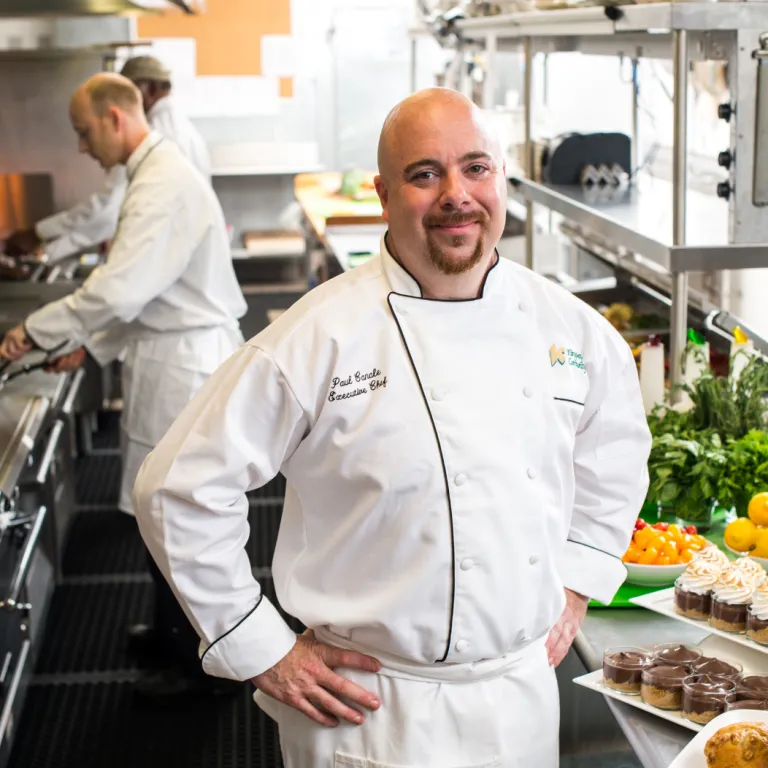 When it comes to choosing a senior living residence for you or your loved one, good food likely ranks high on your list of wants/needs. After all, residents will be eating on campus a lot. So, it makes sense that a senior living community would seek out the best chefs and culinary staff possible, and that's exactly what Kingsway has done. We've already profiled Director of Dining Services Rob Doig, and now we're introducing you to Executive Chef Paul Canale, the culinary mastermind behind Kingsway's five-star-restaurant-quality fare.
Paul, where are you from and where did you grow up?
I am from Amsterdam and while I've traveled all over, I've always called Amsterdam home. So really, I have lived here all my life. This is where my family and friends are, and you can never replace home.
And how did you first get into cooking?
I literally grew up in the cooking life. My father was in the restaurant business and my mother had her own catering company. I worked in both businesses as a child and well into my early adult life. My mother's philosophy is mine too, and she always said that making fine food for fine people is wonderful way to live!
What were you doing before you came to Kingsway?
After my parents retired, I went to work for Glen Sanders Mansion and became the executive chef, cooking at Glen Sanders and the Hall of Springs in Saratoga for some time. After, I became a Kosher executive chef working at most of the temples in the Capital District. Then I was asked to help open the Stockade Inn in Schenectady, where I became the executive chef as well. After doing my time at the Stockade Inn, I worked at PGA National, where I began determining what path I would like to take, having seen that restaurant hours can become longer and longer. At the same time, I became a private chef for a few families from Westchester and began to be travel around the state, east coast and Wyoming to provide service for these families. During that time, I was asked to apply at Kingsway Community for the executive chef position that they had recently created.
When did you join the Kingsway team and in what role?
I joined Kingsway in November of 2006 as the executive chef to modernize the food program in the independent living residences.
You've cooked for several celebrities and politicians—who was the most memorable and why?
I've been blessed to cook for several celebrities and politicians. I would have to say, my most memorable memories have been sitting down with Sting and being able to great conversation with him; letting Ted Nugget drive my golf cart around the parking lot at SPAC; meeting my childhood favorite rockers, KISS; and enjoying great conversation with Gene Simmons and Paul Stanley. As for politicians, there were so many, but being able to cook for Hillary Clinton and being questioned by secret service was one that stuck out more than most. I've also had the honor to cook for some of Wall Street's elites during my time at Kingsway Community.
What's your favorite dish to cook?
Honestly, my favorite dish to make is 16-hour-smoked brisket in my backyard.
And what's your favorite dish to eat?
One of my favorite dishes to eat is Peking duck with noodles. I will make trips to China Town in New York City just for this specific dish.
Do you cook at home in addition to at Kingsway?
I will only cook at home for my families and friends — I rarely cook for myself at home. If I do, I will make a pot of soup for the week.
What do you love most about your job?
I love the fact that I can be creative, and that I have a great kitchen to work in along with our staff. Creating dishes with fresh, locally sourced ingredients, layering multiple flavors and exploring new combinations is like an adventure. Being able to serve new dishes and new theme ideas with our residents adds a great sense of excitement.
What makes Kingsway Community special?
Kingsway Community is a special place. Being able to work for a caring family along with some seasoned staff that have been here for some time is one of the main reasons I enjoy coming to work every day. Being able to bring ideas to our company and having the support needed to make it happen is such a great feeling.
Topics:
Senior Health & Wellbeing