Event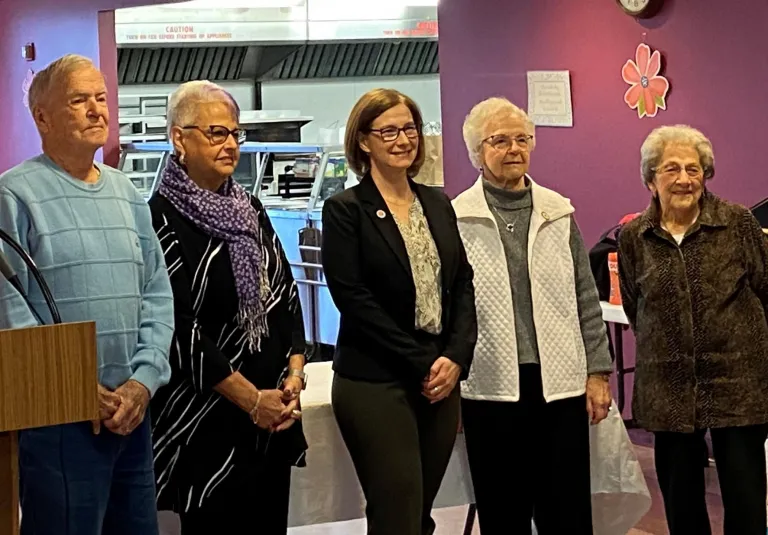 The Schenectady County Legislature announced the 2022 Hon. Karen B. Johnson Schenectady County Older New Yorker of the Year Awards and we are pleased that three Kingsway Community residents were among the seven individuals honored.  Adrienne Westfall, Ed Brush and Fredrick Lindsay were each distinguished for their service to the community in offering their time and experience to worthwhile projects or causes, either through professional or volunteer efforts. Ed, pictured far left, and Adrienne, second from the right attended a luncheon and presentation hosted by County Legislator Michelle Ostrelich (center).
Adrienne Westfall, a highly-regarded retired teacher from the Scotia-Glenville Lincoln Elementary School, actually taught some of the children of one of her fellow honorees.  As a longtime volunteer board member of Schenectady ARC, Adrienne was nominated by this organization who also credits her enthusiasm, passion and wealth of knowledge as a contribution to their success. Schenectady ARC is our county's premier provider of programs for individuals with intellectual and other developmental disabilities and their families. 
Ed Brush, a Schenectady native who also lived in California and Florida before returning to his hometown, was recognized for his work with hospice services for veterans and many years of volunteering for the Scotia Fire Department helping firefighting and emergency management services.  In Ed's words "volunteering provides the opportunity to get involved with an organization, share one's experiences, while at the same time learning and benefiting from other's experiences."
Our third honored resident is Fredric Lindsay, a 1st National Bank of Scotia retiree and former Town of Glenville Councilman, as well as an ardent volunteer in everything from the PTA to the Scotia Volunteer Fire Department (following in the steps of his father) to the DARE program for the Glenville Police Department.  Fredric's philosophy is simple yet inspiring: "I think that everyone needs a friend, no one can overcome obstacles alone."  December 30, 1998 was proclaimed Frederic K. Lindsay Day in the town of Glenville.
Congratulations to this year's awardees and we thank each of you for your contributions to our community!