Director of Dining & Executive Chef, Independent Living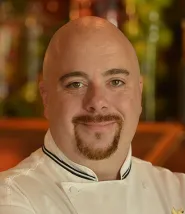 Cooking and creativity is in Chef Paul Canale's blood. From a very early age when he helped his parents in their culinary businesses, Chef Paul knew that this was the career path for him. He holds Associate Degrees in both Computer Programming and Hotel Management, but cooking has always been his passion. An Executive Chef at Glen Sanders Mansion in Scotia for six years and at the Stockade Inn for three before that, Chef Paul has been a member of the Kingsway family since 2006.
Throughout his culinary career, he has cooked for Fortune 500 CEOs, Wall Street investors and numerous celebrities such as Governor Pataki, former New York City Mayor Rudy Guliani, Robert Redford, Sting, KISS and former First Lady and New York State Senator Hillary Clinton.